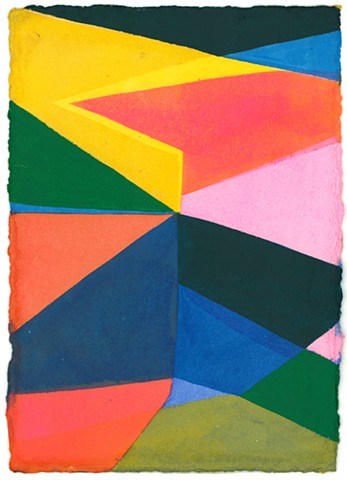 Sarah Brenneman is an American artist based in West Orange, New Jersey working primarily in painting. Her overarching interest lies in abstraction as a universal language and she works primarily in acrylics on large and small canvases and panels as well as on more intimately sized works on paper with gouache, watercolor and pencil.
Brenneman's paintings speak to the long tradition of American abstraction. She is influenced by painters from the 1950's New York School, such as Helen Frankenthaler and Willem de Kooning, as well as earlier 20th century painters like Arthur Dove and Mardsen Hartley.
Brenneman begins her work with a brush mark or a painted shape on the canvas and then performs a series of reactions to each gestural move. She is aiming to connect to the viewer through the language of abstraction as the visual representation of everyday experiences filtered through mark making and color. She paints intuitively, so objects may surface that echo objects and figuration observed in daily life. For example, pennant shapes surface and Brenneman realizes they are hanging in her sons' rooms - these ever present, colorful triangles are always in her peripheral vision. While not setting out to make these objects, when they appear Brenneman welcomes these elements of daily life bubbling up in the paintings, leaving them to thrive amongst her large swaths of color and bold line work.
Letting the painting guide her in her color choices and forms, Brenneman's work is an ongoing search for a 'stochastic' sensation. This comes from John Elderfield's essay, "The Color of Not Knowing," where he writes about Frankenthaler's paintings, "They became stochastic, shaped by the collection and aggregation of random variables discovered in the intuitive process of work."